Boca Grande Tarpon Fishing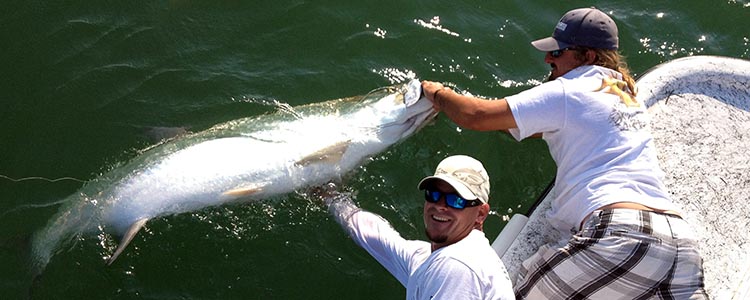 The "Silver King" is one of the most sought after, shallow water, "big game" fish in all of Florida and Boca Grande is the "Tarpon Capital of the World". What better combination of fishing could there be? Big fish and tons of them!
Every year, just like clockwork, 10's of thousands of tarpon migrate to Boca Grande, Florida in or to begin their annual spawn. While they are here, they gorge themselves on baitfish and crabs in order to build up strength for spawning and we take advantage of this by taking some of those baitfish and crabs and put them on a hook and feed them to these giant silver beasts.
Hooking a Tarpon in Boca Grande
Hooking a tarpon is like nothing you'll ever experience in shallow water fishing. On the initial hookset, 100lb+ fish leap into the air and then take 100's of yards of line off the spool in the blink of an eye. Drag screaming runs and aerial acrobatics are what they are famous for and you'll remember every second of it with every ache of your arm muscles for days after your trip.
Here's some more info about our Boca Grande tarpon fishing charters…
When is the best time to fish for tarpon?
May and June are the best two months for tarpon in Boca Grande
How big are the tarpon?
The tarpon we catch average around 100lbs. Fish up to 150 are not uncommon and fish pushing 200lbs are caught at least a few times a year.
How many can we expect to hook?
On a typical day, we'll hook 4-6 fish. Every day is different though and sometimes we just hook a few and sometimes we have crazy days where we hook as many as 20 tarpon.
Can you keep a tarpon?
Yes and No. Legally you could keep one if you had a "kill tag" for a tarpon, but there is no food value in tarpon and for conservation reasons, we do not keep or kill any tarpon on my charters.
What about getting a mount of a tarpon that I catch?
To get a fiberglass replica, we take a few measurements and good pictures of the fish and send them to a taxidermist.